Solvent-based Quick-dry Ink - Suitable For PrintInd
---
Solvent-based Quick-dry Ink - Suitable For PrintInd - Black is backordered and will ship as soon as it is back in stock.
---
Couldn't load pickup availability
Free shipping on orders over $150

Delivery time: Normally, your order will be shipped within 2-3 business days after you make the payment. Most countries will receive the package within 6 working days, some countries may take 10-15 working days.
Up to 30 days return and refund service. If you are not completely satisfied with your purchase, please contact our customer service team.
Order will be shipped in 1-3 business days after payment confirmation. Shipping is free for orders over 150 USD.

Overall features:
Capacity: 20ml
Nozzle width: 26mm

Cartridge times: 2500 times (26mm×50mm size)

Please note: Solvent-based quick-dry ink(permanent ink) are waterproof but can be erased with denatured alcohol (except on absorbent surfaces)
Application device: PrintInd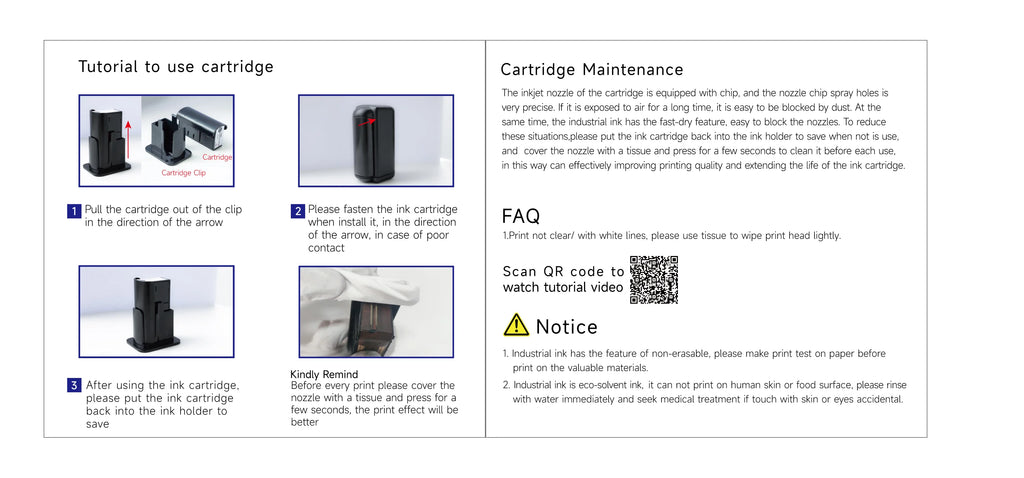 FAQ
Q1. How long can one ink cartridge print?

One ink cartridge contains 20 ml of ink, and for standard printing, the number of times is about 2500 times. (Standard printing: An image with a size of 26 * 50mm is printed, and the printed part occupies 40%)

Q2. What is the maximum printable width?

The maximum width that the EVEBOT print pen can print is 26 mm, which is the maximum width that can be printed by a portable printer so far.

Q3. Ink cartridge storage period

Unopened ink cartridges are for one year, and opened ones are for half a year. When using the package after opening it, be sure to close the protective sleeve to prevent the ink in the nozzle from drying out and becoming clogged.

Q4. How long does the text or logo printed on the object last?

Solvent-based quick-drying ink can be printed on metal, plastic, glass, cement, wood and other objects. The ink is waterproof, but can be erased with professional industrial alcohol (except for water-absorbent surfaces, such as wood). Printing on canvas, fabric surface, the color may fade over time as it clears.

Q5. Please tell me the supported OS.

Compatible with both IOS and Android systems.

Q6. Is it easy to replace the ink cartridge?

The ink cartridges are easy to replace, and for ink cartridge storage, each ink cartridge has a protective sleeve, so when using a new ink cartridge, simply close the protective sleeve of the previous ink cartridge.

Q7. Isn't there a full color?

Full color is currently under development.
Q8. How do I care for and clean the ink cartridges?
Inkjet printers require routine maintenance and maintenance of ink cartridges to ensure print quality and longevity. Since the nozzle is at the nanometer level, it is easy to be blocked by the dust layer if it is exposed to the air for a long time, and the ink will also dry out and block the nozzle. In order to reduce the occurrence of this situation, we recommend that you press and wipe the nozzle of the ink cartridge several times with a paper towel before each use, and then install it for use.
When the machine is not used for a long time, it is recommended that you remove the ink cartridge and buckle the buckle of the ink cartridge to keep it sealed, which can better prevent ink drying and dust from entering, and effectively prolong the service life of the ink cartridge.
Payment & Security
Payment methods
Your payment information is processed securely. We do not store credit card details nor have access to your credit card information.